In just TEN days from now TWO more SL Worlds will collide! After being bestest friends for 7 years in the SL world...Finally, I will be able to hug my bestest friend in all the worlds!!! Join us as we embark on a journey of a friendship that spans over half a decade and two continents...
2 Broke Bitches
are about to meet face to face for the first time. Our avatars have been playing in this virtual world of SL together for 7 years. We've battled bitches together. Fought Dragons. Built island after island. Fought each other. Laughed until tears roll down our legs...And it's even been said that "One cannot shit without the other one knowing about it". Yes we are thick as thieves! Thelma & Louise! Lucy & Ethel! Like us on facebook above and you too can follow our trip of a lifetime as we go trapesin' across the Southern US. For 7 weeks we will be posting all things fabulous...We hope to see/hear from ya'll :)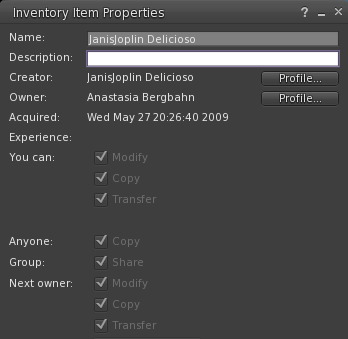 Our very first Calling Card exchange
Shameless Plugs:
2 Broke Bitches @ Facebook
2 Broke Bitches @ YouTube
Personal Shameless Plugs:
Ana @ Facebook
ADD ME!
Ana @ Flickr
Ana @ Twitter
DJ Anabanana @ Facebook
Gosh @ Facebook
#SLSelfies @ Facebook
#SLSelfies @ Flickr
Love ya'll!! Mean It!!!
♥Ana!